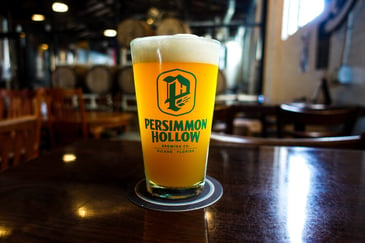 Since opening in October 2014, Persimmon Hollow Brewing Company in historic downtown DeLand has been delighting craft beer lovers with its unique array of American and Belgian-style craft ales. Now, brewery owners Robbie Carelli and Andy Sistrunk are bringing their passion for craft beers that are "fun, a little weird and truly a work of art" to downtown Orlando.
Located in the hip and diverse area known as the Thornton Park District, the Orlando brewery and taproom will occupy the space on the first floor of the EO Inn, on the northeast corner of Eola Drive. The space, previously occupied by Panera Bread, is currently undergoing a total renovation. When complete, craft beer enthusiasts will be able to sample beers, nibble on local bites and enjoy games from inside the taproom or outside on the patio overlooking beautiful Lake Eola.
The brewery is set to open later this summer, with drinks on the menu to include beers available exclusively at the Orlando spot, as well as the brewery's core favorites from DeLand.
Cheers to our client, Persimmon Hollow Brewing Company, on their second location, opening very soon in downtown Orlando! https://www.persimmonhollowbrewing.com/