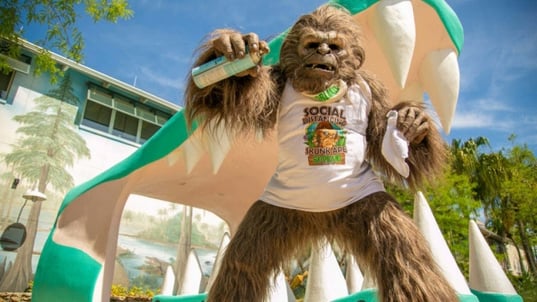 On Saturday, May 23, Gatorland, Alligator Capital of the World, was finally able to reopen its doors after the longest closure in its 70-year history. But welcoming guests back amid the COVID-19 pandemic is no easy feat. To ensure the safety of both guests and employees, the park developed a comprehensive 31-page policy manual detailing new protocols for each and every aspect of the iconic park.
Yet, while there's no question safety is serious business, Gatorland asked why it couldn't be fun, too.
Enter "Social Distancing Skunk Ape," Gatorland's very own mascot who prowls through the park, reminding guests of the importance of maintaining social distance and regular handwashing. An expert on keeping six feet apart, Skunk Ape makes in-park appearances and has regular spots on Gatorland's YouTube show "Gatorland Vlogs" and Facebook morning show "School of Croc."
"Skunk Ape is uniquely qualified on keeping people apart," says Mark McHugh, president and CEO of Gatorland. "We have kids who watch School of Croc calling Skunk Ape their hero. Our super fans and park guests will learn a lot from him, for sure."
Among the many official safety changes to the park are reduced capacities for the park, attractions and venues; social distancing markers for all queue lines; increased sanitization and disinfection protocols for attractions and venues; additional handwashing and hand sanitizer stations; and the closure of certain attractions due to social distancing requirements. Employees are temperature screened and must wear face masks, while guests are encouraged to wear face masks and asked not to enter if they have COVID-19 symptoms.
We proudly recognize our client, Gatorland, for their commitment to safety during the coronavirus pandemic. For more information, please visit www.gatorland.com.