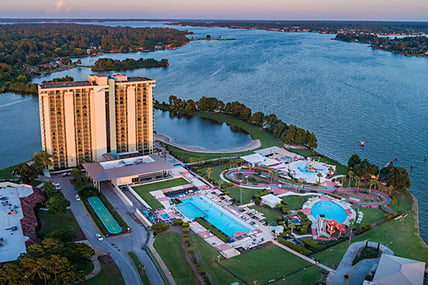 National Tequila Day is July 24, and what better place to celebrate than Margaritaville? With more than 21 resorts in 18 cities in five countries, the Margaritaville portfolio offers guests plenty of ways to escape and relax in the much-loved, "no worries" atmosphere that is a trademark of the brand.
The portfolio's newest addition, Margaritaville Lake Resort, Lake Conroe | Houston, gives Lone Star state residents and visitors the chance to enjoy a laid-back getaway only an hour outside of Houston. Situated on 186 waterfront acres on the shores of Lake Conroe, the resort features 303 guest suites, 32 lakefront cottages, and a number of bars and restaurants. With over 157 miles of shoreline and 22,000 acres of water, guests can enjoy a variety of activities, including an 18-hole golf course, a three-acre waterpark with a lazy river and outdoor pools, pickleball, tennis, swimming, boating, fishing and waterskiing.
To help ensure the safety, health and wellbeing of guests, the resort is emphasizing heightened standards for hygiene and cleanliness for the guestrooms, amenities, common spaces and restaurants, as well as protocols for social distancing. The complete list of added protocols can be viewed here.
Margaritaville, a state of mind since 1977, is a global lifestyle brand inspired by the lyrics and lifestyle of singer, songwriter and best-selling author Jimmy Buffett. Every year, more than 20 million travelers enjoy a change in latitude and attitude at a Margaritaville resort, residential real estate destination, vacation club, vacation home rental or restaurant.
We celebrate our client, Margaritaville, and congratulate them on their first resort in Texas! https://www.margaritaville.com/