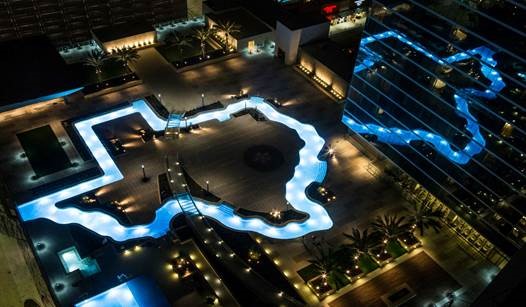 With over 150,000 sqft to get lost in, the Marriott Marquis Houston really does boast that everything IS bigger in Texas! Whether it's the one-of-a-kind Texas-shaped lazy river or the conveniently located sky bridge connecting the George R. Brown Convention Center to the hotel, it's easy to see why the Americas Lodging Investment Summit (ALIS) awarded our client, RIDA Development Corporation with the 2016 Development (Full-Service) of the Year Award. RIDA, who both developed and currently owns the property, received this award under the Full Service classification, which included branded and unbranded, luxury and upper upscale chain scales, and casinos.
With the 2017 NFL Superbowl recently being hosted in Houston, the hotel was designated "NFL Headquarters Hotel" as it was booked full with NFL and Super Bowl staff, premier media outlets and countless other high-profile celebrities. While the city of Houston provided numerous activities for the hotel guests, it was the Texas shaped lazy river and connecting sky bridge that made the Marquis Hotel the center of it all. The 29-story hotel, along with its 1,000 rooms and 40 suites, also featured an unbelievably grand 39,716sqft ballroom, lined with gigantic circular chandeliers that could host up to 4,400 people at once! In addition to the countless meeting rooms, the hotel featured six new restaurants including Astros star Craig Biggios's two-story sports bar and award-winning chef Hugo Ortega's Xochi. And if all this wasn't enough, 110 feet above street level, on the Parkview terrace sits a 12,000sqft heated infinity pool overlooking all of the downtown Houston area.
But perhaps what evokes emotion the most in this massive project is the striking portrait of RIDA's Founder David Mitzner's head which hangs in the main lobby and is made out of bullets — a work by artist David Palmer. David, who served as the hotel developer, died in September, at age 101, just a few months before completion of this project. "He was tougher than bullets," said Laura Mitzner in this latest Forbes article.
David always had a great vision and worked on many development projects in the US and in Europe. Life was not always easy although what he made out of it is remarkable. David was a Holocaust survivor who was imprisoned for eight years in the Russian Gulag before immigrating to the United States where he started his company headquartered in Houston, TX with regional offices in Orlando, FL and Warsaw. David was also a published author who has written a book about his remarkable life and experiences titled "Nessim All Around Me." He received the Polish Medal of Honor from the President of Poland and a double-lifetime achievement award from the Central and Eastern European Real Estate Quality Awards.
Over the last 50 years, David created and invested in innovative and economically successful office, residential, industrial, hospitality and retail developments throughout the country. Through RIDA's European subsidiary, Apollo-RIDA Poland, David also returned to his Polish roots and became a leader in the development and rebuilding of office, retail, and industrial infrastructure needed for the modernization of Poland after decades of communist rule.
We will always remember our long-time client and dear friend David Mitzner and his many achievements with great fondness.
We celebrate our client, RIDA Development Corporation! http://www.ridadev.com