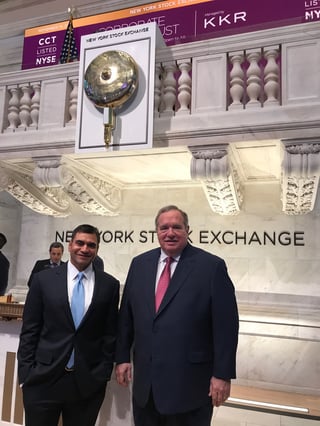 Ding ding ding! After successfully listing Corporate Capital Trust, Inc., CNL Financial Group was invited alongside their partner KKR to ring the opening bell at the New York Stock Exchange on November 14, 2017 at 9:30 am.
"The listing is a great milestone for CCT shareholders and the product of a very successful partnership between KKR and CNL," said Todd Builione, the incoming CEO of CCT and President of KKR Credit and Capital Markets.
CNL Financial Group is a private investment management firm providing real estate and alternative investments. Since inception in 1973, CNL Financial Group and/or its affiliates have formed or acquired companies with more than $34 billion in assets.
For more information, read this press release issued by CNL!
We celebrate our long-time client and friends from CNL!

From right to left: James M. Seneff, Jr., Executive Chairman, CNL
Financial Group, LLC and Chirag Bhavsar, Chief Financial Officer,
CNL Fund Advisors Company