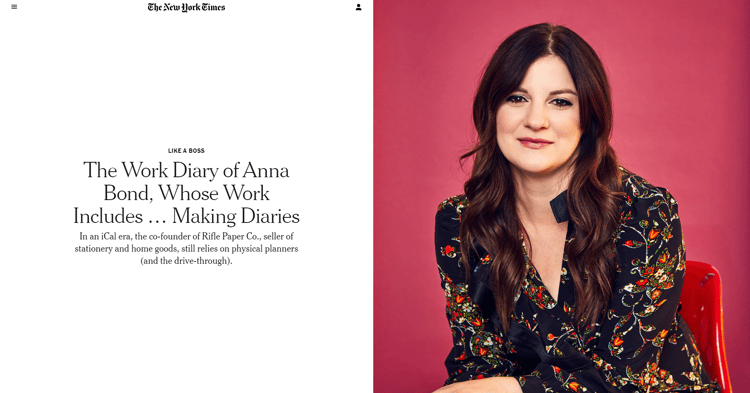 Screenshot from The New York Times
Life can be hectic when you run your own business, and for our client Anna Bond, that's no exception, especially with three young children and offices in two different cities! The New York Times recently published a feature article titled "Like A Boss: The Work Diary of Anna Bond, Whose Work Includes... Making Diaries," where Anna walks readers through her daily planner for the week leading up to the Rifle Paper Co. holiday party.
Anna and her husband Nathan started Rifle out of his parents' garage ten years ago, and have gone on to collaborate and team with partners such as LeSportsac, Garance Dore, Puffin Books, Paperless Post, Keds, Anthropologie and Case-Mate. They have also quickly grown into an international brand that is well recognized.
Winter Park, Fla.-based Rifle Paper Co., was founded in November 2009 by husband-and-wife team Anna and Nathan Bond. The company offers an array of products from stationery, to fabric to shoes to wallpaper. Their design collaborations range from Keds shoes, planners, greeting cards, fabrics, to name a few. Rifle Co. has previously been named to the Inc. 500 list of fastest-growing private U.S. companies as well as their CEO, Nathan Bond, being named to Forbes Magazine 30 under 30 list.
We celebrate our client Anna Bond and Rifle Paper Co.! https://www.riflepaperco.com/