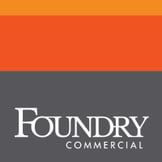 We are proud to announce that our client Foundry Commercial LLC., a multi-city commercial real estate firm headquartered in Orlando, has been named one of the fastest growing private companies in the U.S. by Inc. magazine! Foundry Commercial boasted a 75% three-year growth and $30.6 million in revenue, earning a coveted spot on the list. Since 1982, the Inc. 5000 List of America's Fastest-Growing Companies has compiled the nation's most successful private companies based on their growth over a three-year period. The list has included companies like Microsoft, Timberland, Chobani and Zappos.com in the past. The honorees will be recognized at the Inc. 5000 Conference and Gala in San Antonio this October.
About Foundry Commercial
Foundry Commercial is a full-service real estate services and investment company with 240 employees and nearly 30 million square feet of space under management across the Southeast and Texas. Foundry provides corporate services, brokerage, leasing, building management and project management services, and is the largest real estate service provider to religious and not-for-profit organizations in the Country. Foundry also includes a development and investment platform that is fully integrated into its services business, leveraging its local market expertise to control more than $500 million in advantaged investment opportunities in partnership with its clients. Foundry Commercial was founded as CNL Commercial Real Estate in 2007 and launched as Foundry in 2015 through a management led buyout. For more information, visit foundrycommercial.com.
We celebrate our client Foundry Commercial LLC.!