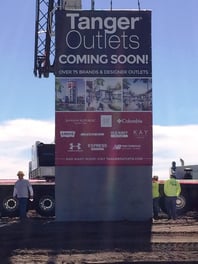 Hundreds of people gathered to watch the raising of the first Tanger Outlets wall in Daytona Beach during the sound of a drum roll by the Atlantic High School band and a cannon that blasted colorful confetti in the air. The mall, which will be built in the Tomoka Town Center development, is expected to add 400 construction jobs to the area with an additional 800 retail jobs once the project is complete.
The mall will have up to 90 brand name stores including confirmed tenants such as OshKosh, Kay Jewelers, Under Armour, Levi's, Skechers, Express and New Balance. It is expected to open in time for the 2016 holiday shopping season.
Tanger Outlets CEO, Stephen Tanger officiated their version of breaking ground with more than 300 local business leaders and supporters cheering on the raising of the outlet mall's first wall chanting "raise that wall, raise that wall..."
"We are going to spend about $100 million building the shopping center. There are studies that show it has a ripple effect through the community of about 80 to 90 times that," said Tanger CEO, Stephen Tanger. Our client, John Albright, CEO at Consolidated-Tomoka Land Co., was in attendance and also spoke about the area's progress and new offerings.
Consolidated-Tomoka Land Co. is a Florida-based publicly traded real estate company, which owns a portfolio of income properties and loan investments in diversified markets in the United States, and over 10,500 acres of land in the Daytona Beach, Florida area. For more information, visit www.ctlc.com.
We celebrate our client Consolidated-Tomoka Land Co. and thank them for advancing Volusia County and bringing more jobs and shops to the area!