We are so proud of our client, Stuart Beebe, president and CEO of Sonata Health Care LLC, who continues to make a difference in Central Florida! To find out more, read his executive profile below.
Executive Profile: Stuart Beebe
by Veronica Figueroa with the Orlando Business Journal
S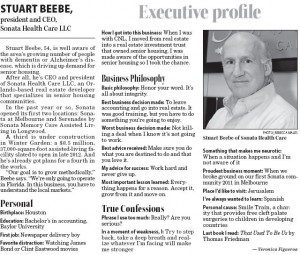 tuart Beebe, 54, is well aware of the area's growing number of people with dementia or Alzheimer's disease, which is driving up demand for senior housing.
After all, he's CEO and president of Sonata Health Care LLC, an Orlando-based real estate developer that specializes in senior housing communities.
In the past year or so, Sonata opened its first two locations: Sonata at Melbourne and Serenades by Sonata Memory Care Assisted Living in Longwood.
A third is under construction in Winter Garden: a $8.5 million, 37,000-square-foot assisted-living facility slated to open in ... to read the story in full, please click here.