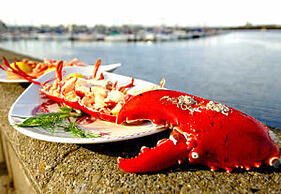 We are so proud of our long-term client CNL Commercial Real Estate who leased approximately 91,226 square feet in downtown Orlando to Red Lobster Seafood Co. after its recent spin off from Darden Restaurant. Once the suites are completed, Red Lobster will occupy three and half floors within the CNL Tower in downtown Orlando and will be located in the heart of central business district. Paul Ellis, President of CNL Commercial Real Estate, noted that the Red Lobster relocation from southeast Orlando to downtown was one of the largest corporate relocations into downtown Orlando since the Great Recession
Red Lobster is currently in the process of building its new culinary development center and test kitchen in its new headquarters. The 46-year old company is going back to its roots and is focusing their menu on seafood and various lobster dishes. As a start, the company has just unveiled their new and refreshed menu which includes the "Ultimate Feast" seafood platter and new crispy shrimp lettuce wraps. The company will also have lobster options at a variety of price points. For casual diners, it has added a Lobster Tacos option; for special occasion diners, there's now a Roasted Maine Lobster Bake.
Red Lobster has 700 restaurants across the United States and Canada
We celebrate our client, CNL Commercial Real Estate!