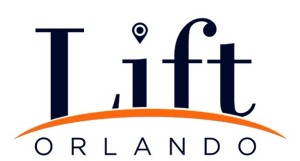 The last few years have brought much synergy and excitement to downtown Orlando. The Dr. Phillips Center for the Performing Arts, the Amway Center, the reconstructed Orlando Citrus Bowl, The Plaza, Creative Village, the UCF downtown campus and SunRail are just a few of the vibrant businesses that are now woven into the "City Beautiful" fabric.
With all these new and exciting changes in Orlando, it would be easy to continue to overlook the chronically distressed neighborhoods west of downtown. LIFT Orlando formed in 2012 in order to leverage the reconstruction of the Citrus Bowl, to bring new life to the surrounding communities, and to ensure the current residents are able to benefit from the positive change. LIFT Orlando's goal is to break the cycle of poverty through holistic neighborhood revitalization, but how do you accomplish such a huge mission?
LIFT Orlando brings together a group of community leaders, businesses, and residents of the neighborhoods surrounding the Citrus Bowl, in a unique collaboration, to help accelerate the community's transformation. The approach is a holistic one, addressing education, mixed-income housing, community health and wellness, and economic development – all necessary for a neighborhood to thrive. Perhaps most important is the community engagement process. From door-to-door surveys to community gatherings, LIFT Orlando is identifying what's important to the residents. "You cannot successfully transform a community without engaging the members of that community," advises Eddy Moratin, LIFT Orlando's Executive Director.
The approach seems to be working. The design process is underway for Lake Lorna Doone Park, a top priority for area residents. Participation by neighborhood children in the Florida Citrus Sports Summer Camp has jumped from 3% to 97%. The neighboring communities surrounding the Bowl have come together to adopt a common moniker, the neighborhoods of West Lakes. They have put in thousands of hours of work towards planning for the future of their neighborhoods, showing themselves to be great leaders in their communities.
"Though we are just getting started," says Moratin, "the momentum achieved has already been surprising and indicative of the great potential of this wonderful community in years to come." LIFT Orlando's Board of Directors include representatives from Florida Citrus Sports, CNL Financial Group, CNL Bank, Florida Hospital, Orlando Health, Lowndes, Drosdick, Doster, Kantor & Reed, P.A., Bags, Inc., Sea World, Zero Chaos, Boyd Development, and the Hope Center. The non-profit organization is also working with Orange Center Elementary School and Jones High School, the City of Orlando, and an array of other non-profit organizations in the area. Among the next initiatives are building new mixed-income housing and attracting new jobs to the area.
For more information on LIFT Orlando, please visit: http://liftorlando.org. We celebrate our community partner LIFT Orlando!