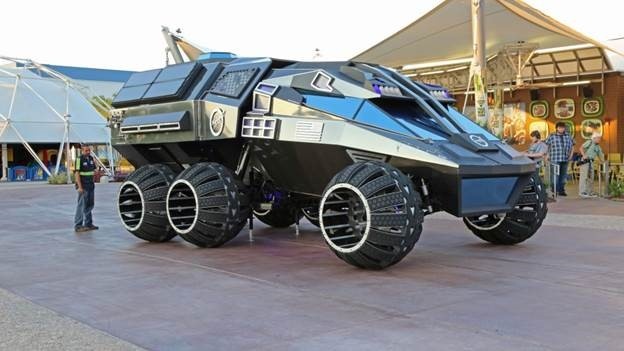 SeaDek revealed its new collaboration project with NASA, the Mars Rover Concept Vehicle
Although the NASA Mars Rover won't be trekking through the coarse red sand of Mars anytime soon, the futuristic vehicle is thoroughly equipped for the harsh terrain with SeaDek's lining which provides traction to the passengers and cushion to help prevent against bumps and thumps along the drive.
The vehicle, which is constructed for US educational purposes only, measures 28 feet long, 14 feet wide, and 11 feet tall. Built by Parker Brothers Concepts and technically equipped by SeaDek, the rover has six air-less, spherical tires that are covered with SeaDek non-skid to help conquer any rough terrain the planet has to offer. The rover also has a state-of-the-art laboratory to assist the passengers with the research and studies of the Red Planet. This special project will be touring the East Coast as part of NASA's "Summer of Mars" campaign. Visit https://www.kennedyspacecenter.com/landing-pages/summer-of-mars to learn more.
SeaDek is known for its non-skid products for boat enthusiasts and dealers alike that want the best for their boats. SeaDek is proud to use 3M™ pressure sensitive adhesive for a lasting bond and simple peel-and-stick application. The company provides exceptional traction and aesthetically pleasing stylistic options for their wide array of products! We celebrate our client SeaDek! Visit: http://www.seadek.com.