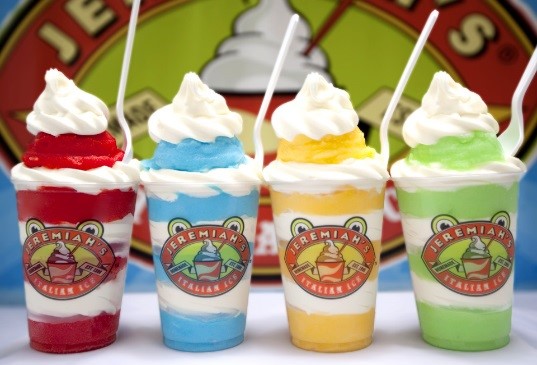 Creamy soft serve or refreshing Italian Ice? Luckily at Jeremiah's Italian Ice, you don't have to decide. You can have both and enjoy Jeremiah's iconic Gelati, a colorfully layered frozen treat that combines your choice of flavorful Italian Ice, and vanilla or chocolate (or swirl) soft serve! Choosing from their 100+ combinations of ice cream and Italian Ices may seem overwhelming at first, but fortunately it is made easy by the knowledgeable servers who dish out samples of different flavors with a smile to help customers decide.
These icy treats are perfect for any of Florida's seasons, and even include seasonal specialties like the Fall Specialty Pumpkin Pie Italian Ice!
Serving mouth-watering frozen treats is nothing new to Jeremiah's. Since their first store opened in Winter Park in 1996, Jeremiah's Italian Ice has provided cool, sweet treats to the visitors and residents of Florida across its 17 locations from Jacksonville to Orlando, including Tampa and even South Florida.
We celebrate our client Jeremiah's Italian Ice. For more info, please visit: https://jeremiahsice.com