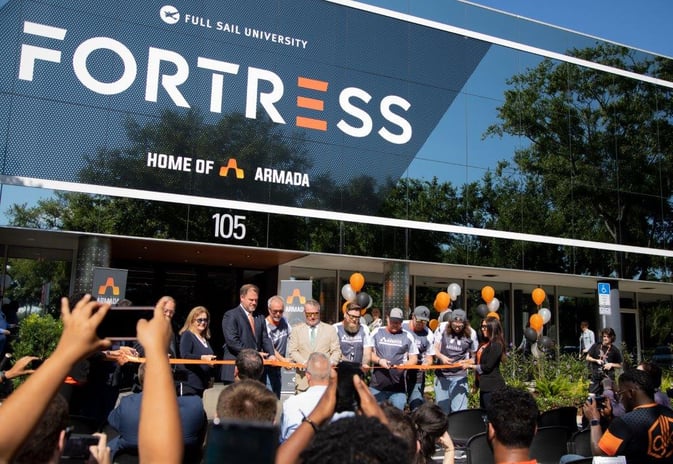 The Fortress seats up to 500 at Winter Park university.
Today Full Sail University opened "the largest on-campus collegiate esports arena in the U.S." The arena introduced as "The Fortress" will be home of the Armada, Full Sail's esports team. The Fortress is a $6 million dollar investment made by the university, with 11,200 square feet, allowing for 100 esports athletes to play simultaneously and more than 500+ spectators to watch live.
"This is not just about a great new place on our campus, this is about a great new place in our region — Orlando and beyond," said Full Sail University President Garry Jones. "Thanks to the power of streaming we can reach tens of millions of people from this space."
Full Sail Armada teams compete in a variety of games throughout the year, including: Overwatch, League of Legends, Fortnite, Hearthstone, and many more. Earlier in the month Full Sail announced a deal with Magic Gaming to be its exclusive university partner.
With the opening of the new arena, The Fortress, Full Sail University will generate more exposure to the university as well as the City of Orlando. The university is setting an example to embrace esports and to follow industry trends.
We celebrate our client Full Sail University and their success as the first collegiate esports arena in the U.S. For more information, please visit: https://www.fullsail.edu/about/esports.