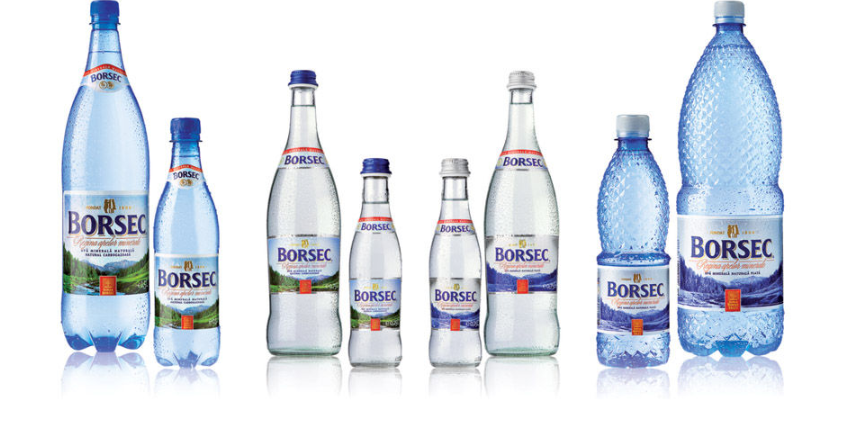 In many parts of the world, water is fast becoming more valuable than gold. This certainly rings true for our award-winning client the Romaqua Group, who supplies bottled Borsec natural mineral water from the Eastern Carpathian Mountains of Transylvania, a region of Romania. Celebrating 211 years of industrial bottling, Borsec mineral water is known as one of the most renowned curative waters in Europe. Re-known for its great taste, it can also help heal a host of metabolic disorders including circulatory diseases, anemia, disease of the endocrine glands, nervous disease, rickets, renal disease, diabetes, and even obesity. The curative properties were discovered in the second half of the sixteenth century, and the water was first served in the Royal Court in Vienna. Emperor Franz Josef awarded Borsec in 1873 with the gold medal and crowned it with the title of "Queen of Mineral Waters." The town of Borsec (Borszek) is a spa town in northwestern Romania (Harghita county) often used for recreation. In addition to the Borsec water, which is responsible for majority of the region's economy, the area also offers hot baths of carbonated mineral water, mineral springs for internal treatment, electrotherapy and hydrotherapy facilities, installations for baths with herbs and more. The town is listed in the register of historical monuments.

Acquired and reformed in 1997 by Octavian Cretu and Nicolae Palfi, the Romaqua Group outputs 35 million liters per month of its legendary "Regina Apelor Minerale SA Borsec" (Mineral Water Queen Borsec). The pH is close to neutral which distinguishes Borsec from other naturally carbonated waters whose carbonic acid origin tends to create much lower final pH levels in the bottled water. The company also produces a myriad of carbonated and non-carbonated soft drinks, coffee, energy drinks, and beer products, which are distributed world-wide. Twenty years ago, Borsec natural mineral waters entered the US market.
Holding itself to the highest standards is priority for the Romaqua Group. It is the first Romanian beverage company to be certified with the ISO 9001 Quality Management System. Two other management systems also implemented are the HACCP (Hazard Analysis and Critical Control Points) and IFS (International Food Standard), as it concerns the guarantee of the food products' security from a sanitary and hygienic point of view.
The water won several medals in competitions in Paris, Berlin, Budapest, Moscow, Poland, Trieste and in Vienna. In the United States, the company won the gold medal in the carbonated water category at the Berkeley Springs International Water Tasting in West Virginia. Additionally, Borsec water picked up a gold medal this year at a world competition in Brussels.
In 2016, the company has grown to a total of 1,895 employees. For more information, visit: Romaqua Group.
We celebrate our client the Romaqua Group!