Family means the world to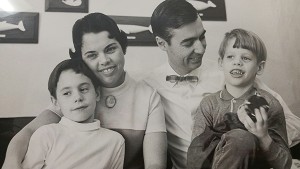 our client, John Rogers. Raised in the Neighborhood of Make Believe by his loving father and television persona Mister Rogers and his adoring mother Joanne Rogers, John was always taught to love unconditionally, be patient with others and enrich the lives of children. Today, the proud single father of a 12 year old son looks back fondly at his past and instills similar values to his son, such as love, support, commitment and the importance of family.
John's son was born just twelve days after Mister Rogers passed away. Mister Rogers had been overjoyed about becoming a grandfather again (John's older brother has two children who are now adults) and had seen sonogram pictures and videos of the nursery before passing. John believes that a part of his father's soul lives on in his son and says his son, much like Mister Rogers, is sweet, shy, extremely bright, insightful and gentle.
Much like he and his father, John and his son enjoy spending time together. Together they bike ride, go to amusement parks and boat and fish during their annual trip to Nantucket, where they spend each summer at "The Crooked House."
John recognizes how fortunate he is able to readily attend school conferences and cheer his son on at events and activities with the flexibility most parents do not have. Being a single father, however, is not easy.
John encourages other single parents to develop and maintain close relationships with family and friends who can become an integral part of the children and their parents' support system and who can also expand their children's horizons. John's mother, Mrs. Joanne Rogers, spends several months each year in Central Florida during the winter. John and his son enjoy her spirited nature and share a close bond with her. His son also has strong relationships with other various members of John's extended family.
John also encourages everyone to live by the philosophy of his father: Show your child they are special. Be kind. Be a friend. It is a beautiful day in the neighborhood. We celebrate our client John Rogers!