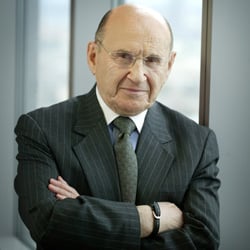 Courageous. Hard Working. Inspirational. Philanthropic. These are just a few words that describe our client of many years and our dear friend, David Mitzner, who recently received the Polish Medal of Honor from the President of Poland and a double-lifetime achievement award from the Central and Eastern European Real Estate Quality Awards (CEEQA). And, by the way, he turned 100 years old in April of this year! David, a Holocaust survivor who was imprisoned for eight years in the Russian Gulag before immigrating to the United States, founded RIDA Development Corporation, a full service real estate company headquartered in Houston, TX with regional offices in Orlando, FL and Warsaw, Poland. David is also a published author and has written a book about his remarkable life and experiences titled "Nessim All Around Me."
Over the last 50 years, David has moved the US culture forward by creating and investing in innovative and economically successful office, residential, industrial, hospitality and retail developments throughout the country. Through RIDA's European subsidiary, Apollo-RIDA Poland, David returned to his Polish roots and became a leader in the development and rebuilding of office, retail, and industrial infrastructure needed for the modernization of Poland after decades of communist rule.
With utmost respect and gratitude for our long relationship with David, his family and his company, we salute our client and friend, and wish him continued good health.
Happy birthday, David, and congratulations on this double milestone!