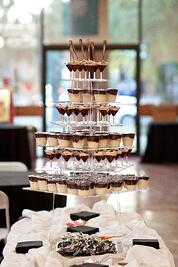 Puff 'n Stuff Catering was started by firm client Warren Dietel who grew uparound his parents' small pastry shop in Trinidad, West Indies. After they moved to Central Florida in 1980, Warren worked from ground up and eventually bought Puff 'n Stuff from his parents in 2003. The company started offering catering services soon after it opened in 1980. However, when Warren purchased the company from his parents in 2003, he grew the small catering operation into a full-service catering and events company. Warren first worked in the kitchen, drove the trucks, served the clients, and paid careful attention to the business. He parlayed his home-grown experience into successful tenures at Walt Disney World Parks & Resorts, The Disney Institute and Scott Kay Platinum, and brought his expanded business savvy back to Puff 'n Stuff Catering in 2002. Today, Puff 'n Stuff Catering enjoys a world-class, award-winning reputation across Central Florida and Florida's West Coast, providing restaurant-quality cuisine, impeccable service, and customized events.
Grateful for his clients' appreciation and community recognition, Warren and his company support numerous charitable and civic organizations, through in-kind, sponsorship, or food donations, silent auction gift certificates, and other ways that benefit clients and the community.
We celebrate our client, Warren Dietel and Puff 'n Stuff Catering!