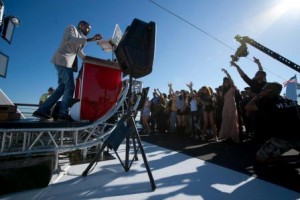 Drawn to music and fashion from an early age, Michael "M-Squared" McPherson first joined his high school band in Orlando as a drummer and created mixes using a dual cassette deck as his turntables. Later, while attending college at Florida Atlantic University, M-Squared served as a DJ at various college parties and completed an internship with Universal Music Group. He graduated with a degree in International Business and also worked with brands such as Banana Republic and Armani, which helped sharpen his eye for fashion and learn about the importance of the music & fashion industries working together.
Today M-Squared is an internationally renowned DJ, Producer, and Mood Designer. Although he is modest and has not forgotten his Orlando roots, he has become one of the world's most sought after artists by A-list celebrities, fashion designers and corporate brands. In 2010, M-Squared won the USA Red Bull Thre3style National Championship and also became a finalist on the hit TV series Master of The Mix Season 2 which is now airing on VH1. In addition, M-Squared headlines premiere venues across the globe such as The Elysee Montmartre in Paris, France, LIV Nightclub & Bamboo in Miami Beach, Le Poisson Rouge in New York City, Heat Super Club in Montpellier, France, LAX Nightclub in the Luxor Hotel in Las Vegas, and has showcased at the SXSW Festival to an audience of over 20,000 music lovers. Today M-Squared also performs at various sporting events from NBA All-Star Weekend & NFL Superbowl festivities to the Daytona 500.
Most recently, M-Squared was featured as the guest DJ on The Daily Buzz TV Morning Show, a syndicated morning news program that airs in over 175 TV markets across the United States.
"M-Squared always stays busy touring, performing at private events, working in his studio, working on major TV projects and is finishing his debut EP," said entertainment attorney, Art Sims with Lowndes, Drosdick, Doster, Kantor & Reed, P.A., who has represented M-Squared since the Spring of 2009 when he discovered M-Squared's talents through an intern, Natalie Bastien. "I immediately booked him to perform with another client, D.J. Pro Style, for a Spring Break music festival. I have seen M-Squared explode onto the entertainment scene with his talent and hard work. He is a talented artist who will continue to go far."
We celebrate our client, M-Squared.