Our client VisualCue™ Technologies LLC, who has expanded into Central Florida to invent and add more jobs, is featured in a Fox35 news story called Home Grown. The video is included below.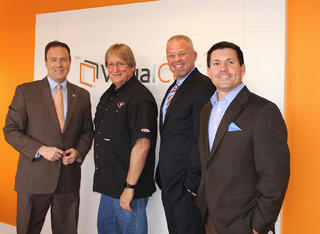 For seasoned technologist and serial entrepreneur Kerry Gilger, a patent is the foundation on which he has built one successful businesses after another. Having moved his company from Melbourne to Orlando to expand operations for his latest venture VisualCue, a growing software company that specializes in innovative operational data visualization, the CEO has already received the notice of allowance for his company's second patent which will issue soon and is awaiting his third patent which is pending. "The rise in patents is an indicator of the economy getting stronger, said attorney Jon Gibbs, the firm's intellectual property chair. "There are a significant amount of tech companies in Central Florida that are inventing and adding more jobs, and our community is lucky to have them." Earlier this year, the Orlando Development Commission reported that Orlando added 38,100 jobs last year. Orlando payroll employment increased 3.32% in December 2015. In their interview tonight, Kerry and Branden Elwell, VisualCue's Senior VP of Sales, talk with Fox News reporter Keith Landry about the company's expansion and plan to add more jobs.
VisualCue was founded on research showing that human beings have natural, valuable tools in visual pattern recognition that are being ignored by traditional dashboards. The VisualCue platform transforms data from numbers into intuitive, iconic representations that harness the power of human sight and allow anyone to gain tactical, actionable insights. The company's mission is to take this technology and change the way the world interacts with information. For more information, go to: http://visualcue.com/who-we-are/the-visualcrew.
We applaud our client VisualCue for advancing our community by innovating and bringing more jobs to our area! To see the feature story on Fox 35, click the video below:

[embed]https://www.youtube.com/watch?v=P3kdo-npXMo&feature=youtu.behttp://[/embed]